Unfortunately, we have very little information about this school, which is located on what used to be the Port Jervis Road (NY Route 42), until the section of road was relocated and widened,  leaving this building on the former roadway..  The building was inspected in 2017 and determined to be structurally unsafe.   So, it awaits its demise as a result of neglect and weather.
We recently received a copy of a "Souvenir Card" that was presented by the teacher William H. Dill for the school year 1900 to 1901.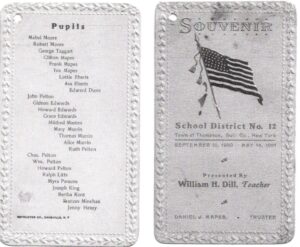 Ruby Feller – former student
We do know that Ralph "Ruby" Feller attended this school.   Ruby passed away in the summer of 2018 just after reaching his 100th birthday!  He had been a resident of a local nursing home for quite some time.   (see photo below).   I know that Ruby was a very proud veteran of World War 2, as he shared his stories with the residents of the nursing home, one of which was my father, who was also a veteran of WW2.